Framing Examples
What can be achieved
These are all pictures that can be framed after completing various lessons from my classes.
Headley Mill
This watercolour of Headley Mill, Hampshire was framed using a double over mount. These have the advantage of leading the eye into the picture. Also, correctly chosen colours will emphasise certain areas and tone down others. This could be useful if you have a favourite part of a picture or want to bring out a certain colour.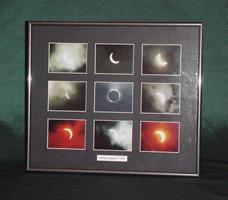 The total solar eclipse, again!
This multiple aperture mount of the eclipse utilises black so that the photographs become even more dramatic with the crisp white bevels. This was a series of photos taken by myself at Fecamp in Northern France during the total solar eclipse of 1999. The photography does not bear up to close inspection but the effect after framing represents the sequence quite well I think. This was a fantastic experience and I thoroughly recommend witnessing it for yourselves!
Parachuting on the Great Barrier Reef.
This frame is an ash moulding which has been painted with matt emulsion paint and then finished with wax to seal the paint. This is an excellent way to create your own finishes to wood frames and if you are any good at decorating, the choices of colour and finish are endless. This colour doesn't really match the picture but it does match my bathroom! This was a truly awesome experience parachuting whilst in Australia on the Barrier Reef. Again highly recommended but not as leisurely an experience as the eclipse!
My three Nephews
This is a veneer moulding that looks very smart when finished and has a very glossy finish to it. I always think these types of mouldings would look good on a grand piano. I don't have such a thing but I just imagine it would. The types of pictures that I think look good in this kind of frame are photographs, such as this one of my three nephews.